Adventure and Beauty on the Wild Atlantic Way
Wendy and Stephens Cliffs of Moher Wedding June 2016
Wendy and Stephen arrived in Doolin by bicycle in July 2016 after spending five days cycling around County Clare and they were so excited about their big day. During the planning process when we asked Stephen what type of wedding they would like he said "We're going on an adventure! If it's raining on the day, it will just add to the beauty!" The stunning Hags Head at the end of the Cliffs of Moher was chosen as their ceremony location.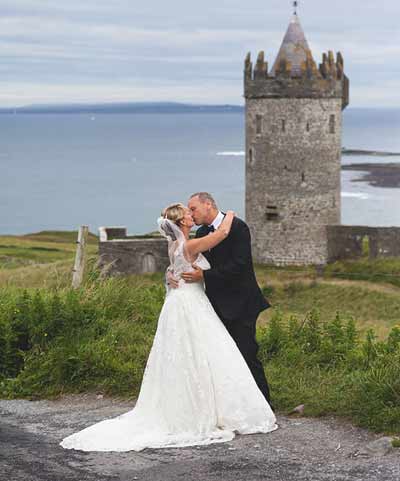 A car and driver were organised along with special permission to allow Wendy and Stephen to arrive at Hags Head in style. The Wild Atlantic Way didn't disappoint.
Their view of Hags Head was obscured by a bank of sea mist that had rolled in from the Atlantic Ocean. But, as is the way on this coastline, they waited just a few minutes for the mist to drift away and reveal the majesty of the coastline for their wedding.
Afterwards it was back to Sea View House in Doolin to cut the wedding cake before heading out to one of Doolin's top restaurants for a once in a lifetime wedding dinner.
"We held our wedding at the Cliffs of Doolin in Ireland.
Naill and Dara became family to us upon arrival.
They assisted me in planning my wedding from the United States.
The accommodations, the food, the wedding were perfect.
They assisted me in every step and the wedding was flawless.
I am so happy that I have allowed them to post a video on their website of my wedding .
If I could give them 6 stars I would have.
I personally reccomend the Sea View House in Doolin Ireland."
Stephen Rothenberg on Wedding Wire
Featured Weddings
Here are some of our couples .
Click on the images for more details.
GET IN TOUCH
We would love to help you.
Please tell us a little about what you would like.:
Sea View House, Fisherstreet, Doolin, Ireland
Phone: +353 87 6834563
Email: niall@seaview-doolin.ie
Web:
www.seaview-doolin.ie